After 4 years of racing I decided it was finally time to do Danskin. yes, I was ready.
In all honesty though I was just waiting until I was fast enough to go off in the elite wave because I was not about to spend $80 on a race just to get caught in a bunch of bottlenecks. Don't get me wrong. I love Danskin and how it changes the lives of so many women but it's just a hard race to ... well ... race.
Because Danskin is such an enormous race (over 5,000 participants including the relay team members) participants are required to pick up their packets the day before the race and also rack their bikes the day before. So, at 7:30 AM Fawn picked me and my bike up and we headed down to Qwest Field to get our packets. I'm not sure how, but we somehow ended up being first in line which was awesome. We were in and out of packet pickup and the expo in less than 15 minutes. When we left, the line looked like it went all the way to Pioneer Square.
We then headed to Triumph where I gave Fawn's bike a brief tune-up and she took it to go rack it. I headed over to rack my bike at around 1:00 and then headed back to triumph to eat some of the special mixed berry pie that I had made especially for my good buddy Tom.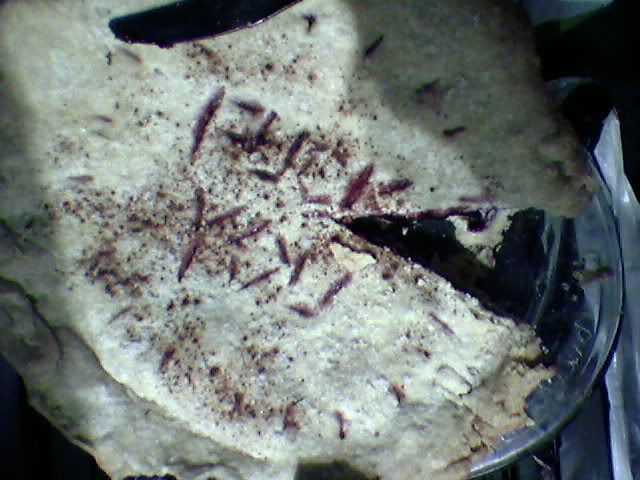 After work, Tom and I went for a swim, then I went for a run, then we ate sandwiches and drank a beer at the honey hole.
I was home by 8:45 and in bed before 10:00. This was definitely a first for me.
Sunday morning I was up by 4:30 AM and the lovely Sharon Ilstrup picked me up at around 5:15. She was kind enough to drop me at transition before going to park since I had to be in the water at 6:45. I got out of the car, it was somewhere between drizzling and pouring. I didn't mind, I kind of dig racing in the rain.
About 20 minutes before my start, I am setting up my stuff and i hear a pop! my rear tire had blown. CRAAAAP! I pulled my wheel off and ran over to the nice folks at the REI tent and they dropped what they were doing and fixed my tire for me. Interesting thing was that right as I was doing this another woman came to the tent to see if they had a spare helmet. They didn't, but I did. I had decided to race with an aero helmet and also had my regular helmet with me which I loaned to her. Good karma, right?
About 10 minutes before the start I make my way down to the water. There are 16 of us going off elite and I knew about half of the ladies there. It was really nice. Right before the start I gave Teresa Nelson a big old hug and thanked her for being the person who got me interested in triathlon 4 years ago.
SWIM
The swim had been cut to 3/8 of a mile so it was quick. I swam right next to Jill Fry for almost the entire thing. There were about 23984792387 kayaks in the water and I don't see very well so sighting was a totally lost cause. I just swam on someone's heels the whole time and hoped that they knew where they were going.
Swim: 10:33
T1
T1 required us to run up a boat ramp and across Lake Washington Boulevard into the transition area. The elites had a good spot not far from the swim entrance or the bike exit. I was out of my wetsuit fairly quickly and onto the bike with my fancy '08 Garneau Rocket aero helmet.
T1: 1:54
BIKE
The bike was great. I don't know what it is that I love so much about riding in the rain but I just LOVE it. The bike is almost identical to Seafair except we go further onto Mercer Island since we start further north on Lake Washington Boulevard. I actually managed to pick off a few of the other elites who had beaten me out of the water and then I leap frogged with one woman for almost the entire bike.
Coming across I-90 was windy but man, that aero helmet really makes a difference in the wind. coming off of I-90 and back down to Lake Washington Boulevard was wet and a little sketchy but when I looked to my right to see the women trying to get onto I-90 it was a massive bottleneck. Almost everyone was walking their bikes. There was really no other choice. Once again, so glad I went off elite and not with my age group.
I ate a gel about 2 miles from the transition area and started to mentally prepare for my run.
Bike: 32:28 (22.9 MPH!)
T2
Okay, so T2 was kind of a disaster. I got to the dismount area and went to get off my bike and managed to slip coming off the bike on a wooden ramp going into the transition area. I heard people asking if I was okay but I ignored them and untangled myself and got back up, picked up my bike and started running into the grassy transition area.
I made it about three steps before I fell again and lost my bike somewhere behind me. Then I did something that I'm not very proud of. I said a very very bad word and I said it as loud as I could. Sorry to all of those who witnessed this.
I grabbed my bike again and sprinted over to my rack. I got my shoes and race belt on fairly quickly and was off.
T2: 1:56
RUN
The run hurt at the start. I mean, my run always hurts but I had really beat up my legs in my two falls and both shins and my right quad were throbbing with what would become a bunch of glorious bruises by the next day.
The run is an out and back but then on the way back you go up a significant hill and around the back side of the transition area to the finish. About a mile in I heard someone calling my name and it was my buddy Jon who was volunteering at one of the intersections on the run. When I got back to my phone after the race I would find this picture on my phone with a message that said "great job!"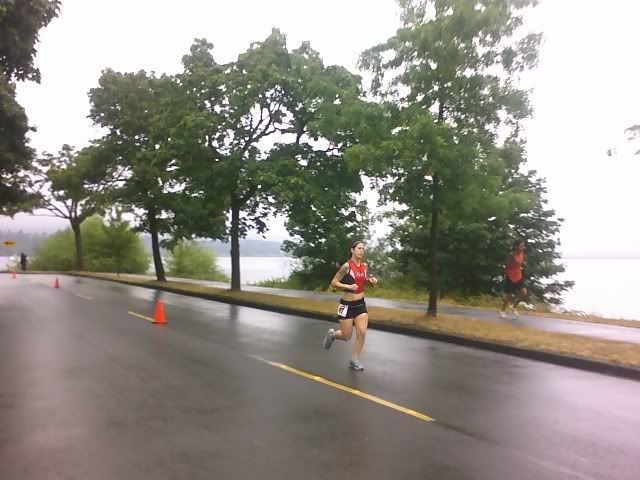 On the run, I was passed by Nichole Jacobson and Karin Gardner but no one else. I was fine with this considering I was hurting and really didn't feel like I could move much faster. I got to the finish feeling strong but my legs were definitely hurting.
Run: 24:23 (crappy)
Overall:1:11:15
7/16 Elite
10/3,496 Overall
All in all I had a really fun time doing this race but I'm not sure if I will ever do it again. I pretty much had to commit two days to doing a sprint triathlon and I just am not sure if that is something I'm willing to do.