I woke up at around 5:45 and was out of bed by 6:00 for this race. I stayed at a friend Ben's house in Seattle so I wouldn't have to get a hotel or deal with the ferries in the morning. As usual, I spent 30 minutes second-guessing myself and convincing myself that I could, in fact, swim roughly a mile, ride my bike for 25 miles and run a 10k. It's strange, no matter how many times I race, I always have to have this internal argument with myself.
After dragging Ben out the door (he had been out until 3:00 the previous night/morning) we were on our way at around 6:55 (I had wanted to leave by 6:30). Luckily, in 4 years of racing at Nolte State Park, this was the first time I didn't get totally lost getting there. Also, because I'm a card-carrying USAT member, I was able to cut to the front of the 14 mile long packet pickup line.
I got all set up in transition. I was right across from Tammy which was nice, since chatting with someone I know before the race generally calms me down a bit. Due to the 198 mile long packet pickup line, the race got off to a little bit of a late start but I believe I was in the water by around 9:30.
My swim was actually really good. I started in the front just left of the middle of the pack. I was right behind one woman who I believe was Amy Spence and I just kind of followed her feet the whole time and sighted a lot less than normal. by the second buoy I was passing some dudes who had started 5 minutes ahead of us. I never had any breathing issues and I just kind of cruised like I was in the pool for the whole swim. I'm not sure about my pace (It will probably look slow since the course was long) but as far as how I felt, it was one of the best swims I have ever had.
My transition was pretty smooth. I had my wetsuit down around my hips by the time I got to my bike and it came off pretty easily after that. It was raining at this point and my shoes had some water in them but ... oh well. I slipped them on and I was off. I spent pretty much the entire bike leapfrogging with Monique Lance, Amy Spence, and some dude who we kept passing then he would pass us back and die again. While I liked having Monique and Amy there to push me, I was a little nervous that we were going to get dinged for drafting (even though we of course, weren't). The bike was COLD. It was sprinkling the whole time and it was pretty windy in some spots. By about mile 18 (I think) I noticed that I was barely able to push my shifter down with my right hand. I pretty much would have to push it down with the heel of my hand just to shift. With 5 miles to go I needed to eat a GU and I could barely get my trash in my back pocket ... shit. Coming into transition I tried to get my shoes off while I was still on my bike and I couldn't even grip the velcro straps ... shit. Two people crashed right in front of me trying to dismount but I managed to get in around them.
I get into transition and there are a few people sitting around kind of moaning, totally unable to make their hands and feet work to put their shoes on. I got my bike shoes off fairly easily but my hands wouldn't work to get my running shoes on. I ended up just standing and kind of shoving my frozen feet into my shoes. Luckily I had left my running shoes sitting upside-down so they were pretty dry and I had coated the heel with body glide and filled them with baby powder. My transition was definitely longer than normal but I managed to get out on the trail probably in just over a minute.
The run is normally an out and back with the last 1.4ish miles around the lake. Due to some problem or another they decided to just have us do 4 loops around the lake rather than do the out and back. Because of this I was told that the run was 5.7 miles rather than 6.2. This was kind of cool because I love the lake trail but kind of not because on the first lap, every time I'd hit a big hill or a giant puddle I was like "cool, I get to do this 3 more times." That aside, I actually had a great run. I just kind of cruised. On the first lap I actually PASSED PEOPLE which I never do (and yes they were in my race and not part of a relay). The other really cool part was that NO ONE PASSED ME (except for some dudes and they don't count)! The only really sucky thing about the run was that my left foot went numb for about the last 15 minutes. I'm not sure why this happened because at this point my feet were not cold. I'm worried that it had to do with my trochanteric bursitis but I wasn't really having pain in my trochanter. I guess I will just have to see if it happens again.
Anyway, I ended up finishing 5th overall and 2nd in my age group with an overall time of 2:24:41. Less than a minute (59 seconds to be exact) behind Jill and a little over 5 minutes behind Tracy who was the overall winner. I'm really quite happy with this result even though I don't have my splits yet. My run was f---ing hard but it felt good which is what I've been wanting. My time wasn't WAY slower than Tracy's like it usually is (last time I raced her in an olympic distance she was nearly 14 minutes faster than me) and I felt like I was smart on the bike rather than just hammering like I usually do.
Here are some photos taken by Michael and Ben
you can see I did manage to get my shoes undone but was unable to grip the heel to actually pull my feet out. Also, there was a big spill right in front of me which is likely what I'm looking at.
Running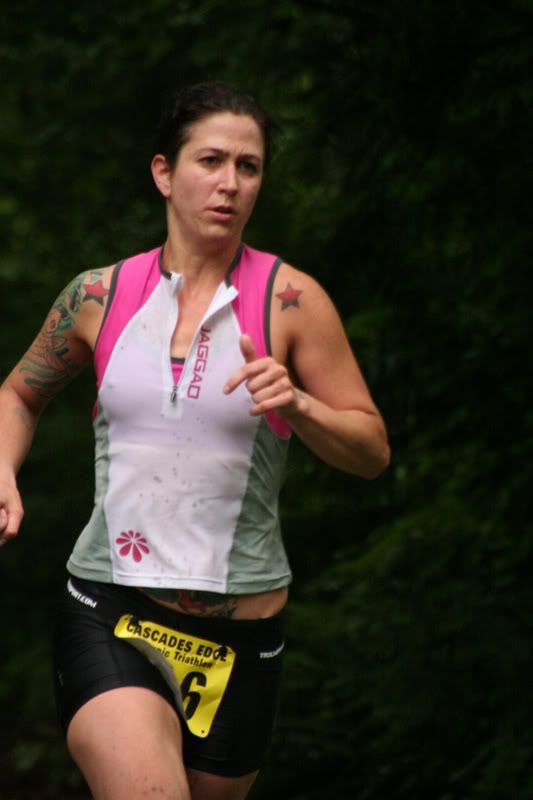 *edited to add splits ... the swim was DEFINITELY long
Swim: 26:16 (11th woman out of the water)
T1: 2:33
Bike: 1:09:37 (2nd fastest female bike split ... jill was 1st)
T2: 1:59 (oops)
Run: 44:16 (6TH FASTEST FEMALE RUN SPLIT!!! HOLY CRAP!!!)